IT's TIME FOR OUR ANNUAL NEIGHBORHOOD CLEVELAND HEIGHT'S PIG ROAST!

You know this is one of the best day's of the year at our Cleveland Height's Cage! IT's A PARTY and you'll smell the goodness all the way down the street! We'll have the tents set up, FREE FOOD, LIVE MUSIC…and HAPPY HOUR DAY & NIGHT! Come join us for this awesome tradition. The smells of BBQ will fill the air on LEE ROAD from our famous Smoker and you KNOW the SAUCE IS BOSS! There's plenty room at the table for ALL!
See you Saturday, September 14th at 5p.m.!
***

IT's Reggae Saturdays at the Tremont Rib Cage on West 25th!
WE literally BE JAMMIN' and you will BE HAPPY!!

Your Saturday Happy Hour Specials & Jams begin at 6pm. Check out and Follow our Social Media for special promos, videos of the events, customer photos and pop-up specials.  We've got Ghani 'in da howse' on September 21st and Papa Dave Smeltz on September 28th.
WHOOOOOOPP!!
***
Okay Cleveland, we are FULL IN with SEPTEMBER GAME DAYS! We showed you THE RIB CAGE east & west are the spots to be in Brown's Town!
YOU KNOW YOU WANA SEE THE BROWNS BEAT THE RAVENS AND WE ARE THE BEST WATCH SPOT WITH OUR DOLLA-DAWG SPECIALS!
COME TO OUR 🎉GIVEAWAY WATCH PARTY🎉 ON SUNDAY SEPTEMBER 29th  at 1p.m. YOU WON'T WANT TO MISS BEING AT THE RIB CAGE FOR THIS GAME /VS/ THE RAVENS!!
TO GET THE FULL-ON DETAILS ON OUR GIVEAWAY-FOLLOW OUR SOCIAL MEDIA PAGES ON INSTAGRAM & FACEBOOK!
We've also got two BROWNS games before our GIVEAWAY!
We play the JETS in New York at 8:15 p.m. Mon., Sept. 16th and a HOME GAME against the Los Angeles RAMS, Sun., Sept. 22nd at 8:20 p.m. We'll keep bringing the heat. You keep your fingers on the hot buttons-our website & social media accounts (listed below) for Pop-Up Specials and Game Day Promotions!
***
You KNOW we aim to please and would never want to disappoint you. So YES! We are open Monday, September 2nd, 2019 for Labor Day!
In fact…

In case you haven't met our amazing musicians who show up for us every Thursday and Friday night, around 8pm at The Rib Cage in Cleveland Heights…we want to begin sharing them on our website too.
Here's our man, Tim Matson! We are celebrating his 3 year anniversary with us on Monday September 2nd, beginning at 8pm. You will enjoy checking him out on his own website and learning more about this amazing musician: www.TimMatsonCleveland.com.
***
We're in THE DAWG DAYS NOW!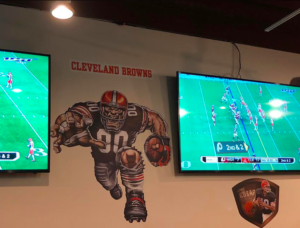 We are doing it again this coming Saturday, August 18th when the Cleveland Browns kick off their second pre-season game in Indianapolis against the Colts, starting at 4 p.m.
We have the outside patios so cozy and hooked UP with surround sound. The BIG screens are bringing you the game inside and don't forget about our cool Penny Bars! BEST OF ALL: you get to count on us being your HOTSPOT with $1 Jello Shots, $2 Smoked DAWGS and $2 Domestic Beers. PLUS: We are running ALL of our weekly Happy Hour Specials during the game!
For additional last minute promos and weekly specials, be sure you follow and like our Social Media pages listed on the site next to their colorful icons. That's where you'll find our farm-to-table cooked up goodies like homemade peach or apple cobbler, garlic mashies and more! You'll also get weekly updates about pop-up specials, Trivia nights, Live Music and More!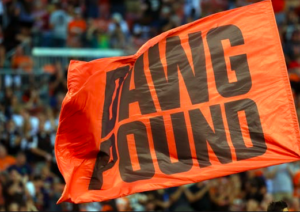 ***
It's $2 Dolla-DAWG Day this Thursday, August 8th at The Rib Cage Smokehouse East and West sides!
We know you're hyped and SO ARE WE!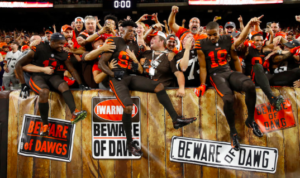 For all you Loyal Dawg Fans we are Kicking' Off the First Game of the Pre-Season at 7:30 p.m. with our FULL SCREENS and STUDIO SOUND powered up and Smoked meats lit! You'll be feeling GOOOOOD to the BONE!
We'll be smoked-grilling' and chillin' WITH YOU out on the patios! 
Get ready for some Festive Surprises to get Game Day Going! We've got Dollar-Dawg-Jello-Shots & $2 Domestic Beers!
To Top it off, we're adding ALL our weekly specials to this Thursday's Happy Hour Menu!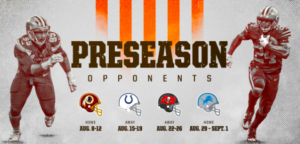 ***

Summer 2019 is Sizzling…
with Good Heat at The Rib Cage!
FOLLOW & LIKE our UPDATED SOCIAL MEDIA ACCOUNTS to GET NEWS on SOCIAL MEDIA PROMOTIONS as thanks for being a fan of our brand new Cage pages.
You'll find videos, fan photos, special social media promo events and so much more when you follow our new accounts.
*NOTE: If you share a positive review, there's a surprise in store for you on your next visit to either Rib Cage location! Simply show us it's you- who did the review! You can add a photo too!
Don't forget to Hit the HOT 🔥 BUTTON below and stay informed about ALL the events and specials coming your way on our website for each Rib Cage location:
Ohio City & Cleveland Heights!
***
Just a few of our
CURRENT: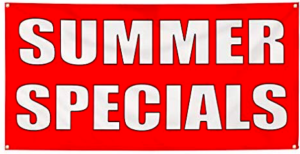 MONDAY: Free Beer with Burger
Taco TUESDAY: $4 Brisket tacos $3 Pulled Pork & Chicken Tacos
WEDNESDAY: 10 Wings for $10
THURSDAY: Wing Tips, Rib Tips & Domestic Beer $11
🎶 Live Music: Height's Cage location east- enjoy Guitar & Blues from 8 p.m.-11p.m.
FRIDAY: 🎶 Live Music: Height's Cage location east- chill with some old-school Motown from 8 p.m.-11p.m.
SUNDAY: 'Last Call' Trivia Night: Ohio City location- 6 p.m.!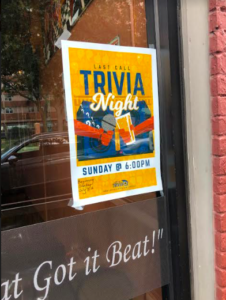 You asked and we delivered. Keep your eye out on Social Media for each Trivia Night's Specials! The only spot in Ohio City where you can enliven your Sunday evening with trivia play, get fun facts and enjoy camaraderie with your community!!
Get F &Q details through our 'Last Call' Sponsors: Click Here! 
***
It's Time for Another Celebration!
Come, Dine-in at the Rib Cage this Friday, May 23rd and have Cake on the House!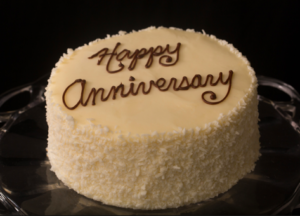 ***
For our Customers this Memorial Day Weekend:
We will OPEN EARLY -at 11:30 a.m.- both our Cleveland Heights location on Lee Rd. & on West 25th in Ohio City.
***
Come Celebrate with us this upcoming weekend for St. Patrick's Day.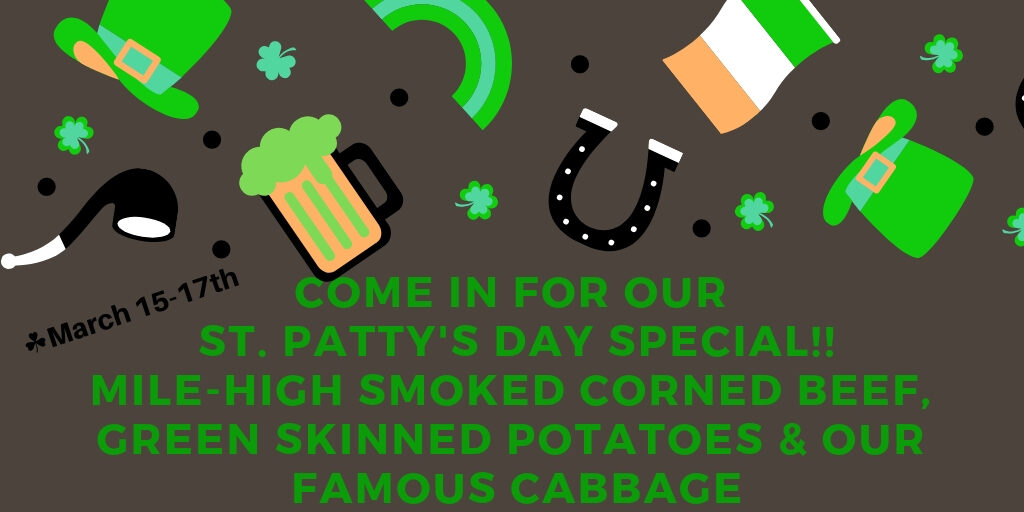 🌺Spring…
we're almost there and pipin' up the ambiance for those fresh-air evenings out on your favorite patios with unbeatable smoked ribs, finger-lickin' good sauces and the sides you love.
Get ready to chill and enjoy the camaraderie on The Ribcage Patios this Spring. It's Daylight Savings this weekend. Remember to turn those clocks ahead one hour on Saturday, March 9th!
SMOKIN' SPRING SPECIALS…OHHH~ to be announced SOON!
When you just can't make it out, but you know your body's telling you: THE SAUCE IS BOSS TODAY- remember, we've got you hooked up with to-your-door-delivery. Click your favorite link below to eat RibCage Smokehouse at home!
…to be announced SOONto be announced SOON!
To Be Announced SOON!Remember: We've also got you covered for those days you can't make it out, but your body's telling you- the Ribcage Sauce is Boss!
***
Live Music Saturday Feb. 23rd, while you enjoy your delicious Ribcage Smokehouse BBQ!
***
ART NIGHT
COME EXPLORE YOUR HIDDEN ARTIST at the RIBCAGE TUESDAY, FEBRUARY 26th
🎨Have some drinks and let off some steam! Get in touch with your creative side. Enjoy time with your friends or come on your own and meet amazing new folks. We are a welcoming bunch and you'll love your instructor, Jan Mcandrew! Your $25 fee includes all materials and canvas so you can keep your masterpiece. You'll be amazed at how incredible you can paint!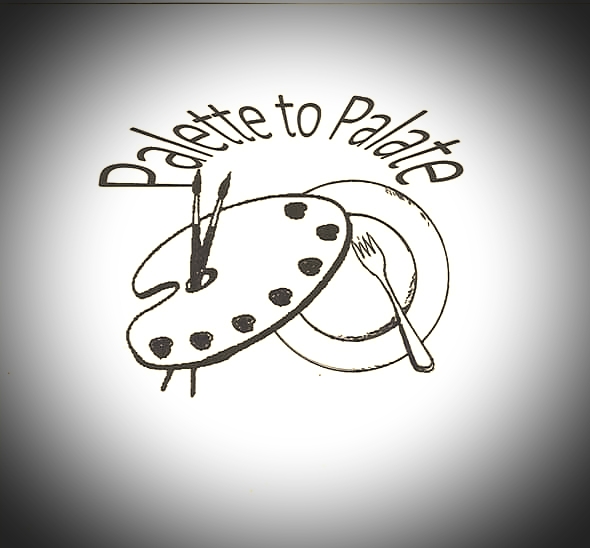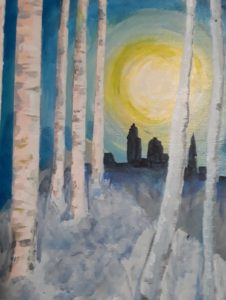 ➡️ Sign up via PayPal at: Magyarladyaubrie@gmail.com
***

WINTER's New Rib Cage Smokehouse Specials:
♦️Tuesday, December 11th, 2018—
8:30-10:00 p.m.
The Rib Cage Smokehouse invites you to:
A Night of Collaboration and Camaraderie
with Woodford Reserve Whiskey and Special Guest: Pete Wagner—
'Whiskey Pete"…Ohio's Premium Expert on Bourbon.
3 Courses 3 Whiskies $30!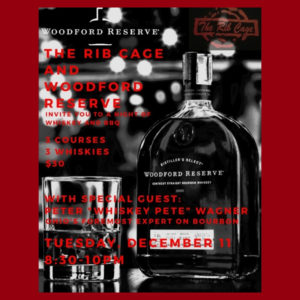 ***
SPECIAL EVENTS THIS WINTER to WARM YOUR SPIRITS:
• LIVE MUSIC 🎶—EVERY SATURDAY:Both Locations!
• OPEN MIC NIGHT🎤 West 25th Mondays & Tuesdays 7-9 p.m.
• CHRISTMAS EVE🎄—WE'RE OPEN AT THE CAGE—Heights Only.
*We will re-open again after Christmas Day*
• NEW YEAR's EVE 🎉—Come Celebrate with The Rib Cage Smokehouse. We're open: West 25th & Heights Locations.
Featuring: FREE Pulled Pork Sliders, Beans, Slaw & Champagne 11:00-1:00 a.m.
***
🌟LATEST FOODIE DELIVERY NEWS 4U!🌟
We offer you (click)→DoorDash Delivery —Your favorite Cleveland Restaurant can now deliver in under an hour.
We're also on (click)→ GrubHub and your first order with them gives you a great discount for the Rib Cage, when prompted to enter your email. *Our restaurant appears during open hours, starting at (4 p.m.)
Order with us on (click)→ Uber Eats as well.
***
YOUR SUPPORT OF OUR FIRST RESPONDERS was AWESOME so we decided to KEEP the Special going through November. Thanks to our Patrons.
SUNDAYS in October:
SHOW THEM YOUR APPRECIATION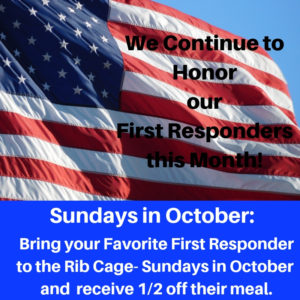 GAME ON!
You wanted it, you got it!
EVERY MONDAY in October
we will serve up the Tailgate Happy Hour with Football Fan Specials:

***
Saturday, September 15th, 2018…
Our day to honor YOU!

Come by your ANNUAL PIG ROAST at the Cleveland Heights Rib Cage, on Lee Road. We'll be outside with tents to serve up your favorites. Last year our customers loved the celebration and spent the evening enjoying the festive outdoor patio.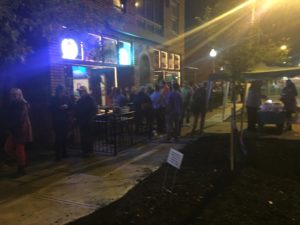 This year we've added more!
The patio's extended with a hand-carved bar-length table where community and friends will enjoy coming together for food, all night happy-hour and games.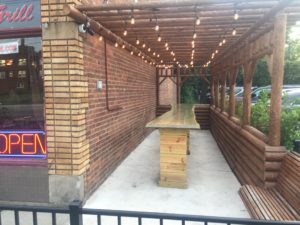 ***
MONDAY NIGHTS in SEPTEMBER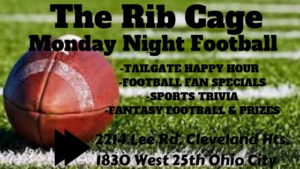 ***
EVERY SUNDAY in SEPTEMBER!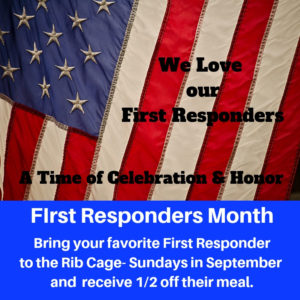 ***
You won't want to miss out on the best 'seats in the house' this September, for the OHIO CITY ANNUAL STREET FESTIVAL on
Sunday, September 23rd- 2018.

We invite our neighbors and friends from the east and west sides to join us at our newest Rib Cage location for a day-long celebration.
You'll be able to watch all the action from this prime location—on West 25th Street. Overlook the entire Festival and enjoy some of your smoked favorites for FREE, on the Patio of the Rib Cage.
The streets will be full of music and art entertainment from noon until 8 p.m. There will be family-friendly fun, including interactive games, activities, crafts, inflatables and more! This event is FREE and open to everyone.
Remember: if you find something 'different' hiding amidst the pennies in our famous penny bar, there'll be a surprise for you!
Click here for more information about Ohio City and the specific details of the Festival.
***
Hit the HOT BUTTON at the bottom and sign up for new monthly specials, event updates & promotions.