MARK YOUR CALENDARS:
It's Time for Another Celebration!
Come, Dine-in at the Rib Cage this Friday, May 23rd and have Cake on the House!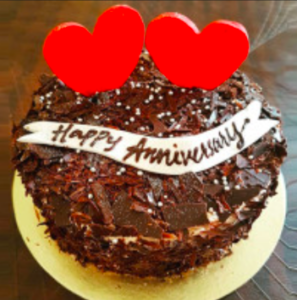 ***
For our Customers this Memorial Day Weekend:
We will OPEN EARLY -at 11:30 a.m.- both our Cleveland Heights location on Lee Rd. & on West 25th in Ohio City.
***
Come Celebrate with us this upcoming weekend for St. Patrick's Day.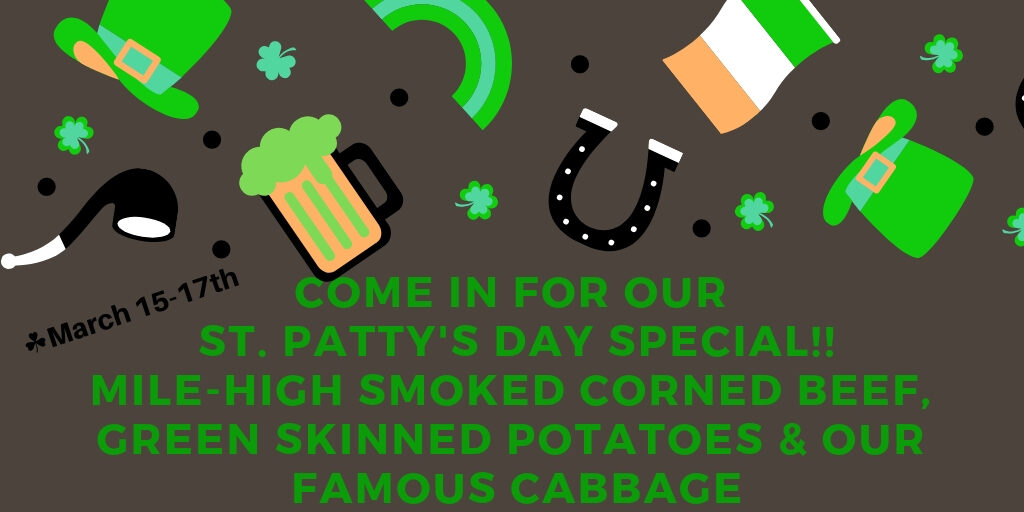 🌺Spring…
we're almost there and pipin' up the ambiance for those fresh-air evenings out on your favorite patios with unbeatable smoked ribs, finger-lickin' good sauces and the sides you love.
Get ready to chill and enjoy the camaraderie on The Ribcage Patios this Spring. It's Daylight Savings this weekend. Remember to turn those clocks ahead one hour on Saturday, March 9th!
SMOKIN' SPRING SPECIALS…OHHH~ to be announced SOON!
When you just can't make it out, but you know your body's telling you: THE SAUCE IS BOSS TODAY- remember, we've got you hooked up with to-your-door-delivery. Click your favorite link below to eat RibCage Smokehouse at home!
…to be announced SOONto be announced SOON!
To Be Announced SOON!Remember: We've also got you covered for those days you can't make it out, but your body's telling you- the Ribcage Sauce is Boss!
***
Live Music Saturday Feb. 23rd, while you enjoy your delicious Ribcage Smokehouse BBQ! 
***
ART NIGHT
COME EXPLORE YOUR HIDDEN ARTIST at the RIBCAGE TUESDAY, FEBRUARY 26th
🎨Have some drinks and let off some steam! Get in touch with your creative side. Enjoy time with your friends or come on your own and meet amazing new folks. We are a welcoming bunch and you'll love your instructor, Jan Mcandrew! Your $25 fee includes all materials and canvas so you can keep your masterpiece. You'll be amazed at how incredible you can paint!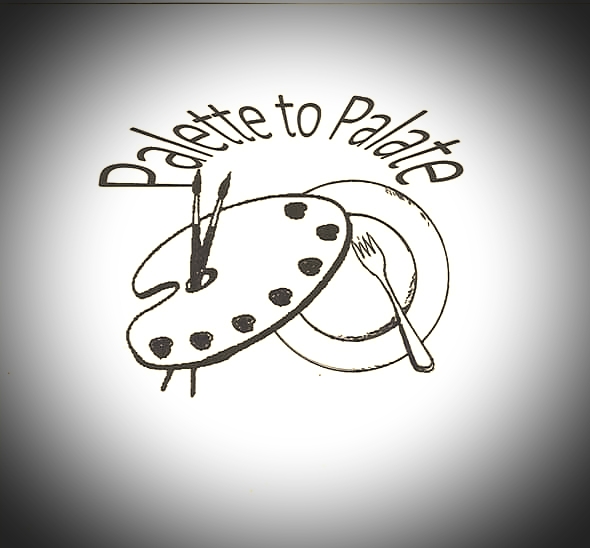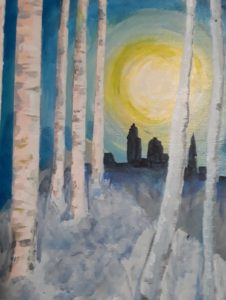 ➡️ Sign up via PayPal at: Magyarladyaubrie@gmail.com
***

WINTER's New Rib Cage Smokehouse Specials:
♦️Tuesday, December 11th, 2018—
8:30-10:00 p.m. 
The Rib Cage Smokehouse invites you to:
A Night of Collaboration and Camaraderie
with Woodford Reserve Whiskey and Special Guest: Pete Wagner—
'Whiskey Pete"…Ohio's Premium Expert on Bourbon. 
3 Courses 3 Whiskies $30!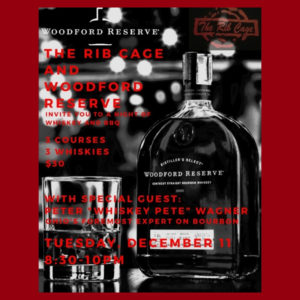 ***
SPECIAL EVENTS THIS WINTER to WARM YOUR SPIRITS:
• LIVE MUSIC 🎶—EVERY SATURDAY:Both Locations!
• OPEN MIC NIGHT🎤 West 25th Mondays & Tuesdays 7-9 p.m.
• CHRISTMAS EVE🎄—WE'RE OPEN AT THE CAGE—Heights Only.
*We will re-open again after Christmas Day*
• NEW YEAR's EVE 🎉—Come Celebrate with The Rib Cage Smokehouse. We're open: West 25th & Heights Locations.
Featuring: FREE Pulled Pork Sliders, Beans, Slaw & Champagne 11:00-1:00 a.m.
***
🌟LATEST FOODIE DELIVERY NEWS 4U!🌟
We offer you (click)→DoorDash Delivery —Your favorite Cleveland Restaurant can now deliver in under an hour.
We're also on (click)→ GrubHub and your first order with them gives you a great discount for the Rib Cage, when prompted to enter your email. *Our restaurant appears during open hours, starting at (4 p.m.)
Order with us on (click)→ Uber Eats as well.
***
YOUR SUPPORT OF OUR FIRST RESPONDERS was AWESOME so we decided to KEEP the Special going through November. Thanks to our Patrons.
SUNDAYS in October:
SHOW THEM YOUR APPRECIATION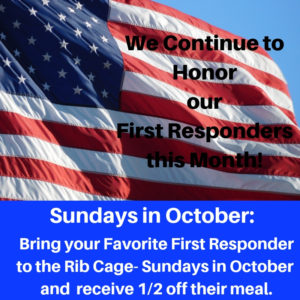 GAME ON!
You wanted it, you got it!
EVERY MONDAY in October
we will serve up the Tailgate Happy Hour with Football Fan Specials:

***
Saturday, September 15th, 2018…
Our day to honor YOU!

Come by your ANNUAL PIG ROAST at the Cleveland Heights Rib Cage, on Lee Road. We'll be outside with tents to serve up your favorites. Last year our customers loved the celebration and spent the evening enjoying the festive outdoor patio.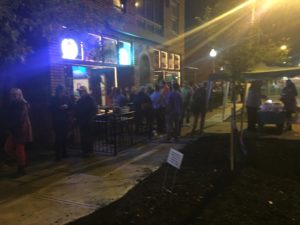 This year we've added more!
The patio's extended with a hand-carved bar-length table where community and friends will enjoy coming together for food, all night happy-hour and games.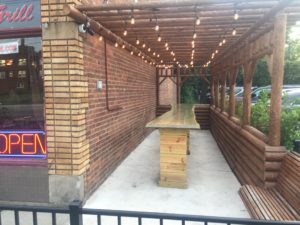 ***
MONDAY NIGHTS in SEPTEMBER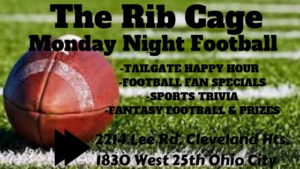 ***
EVERY SUNDAY in SEPTEMBER!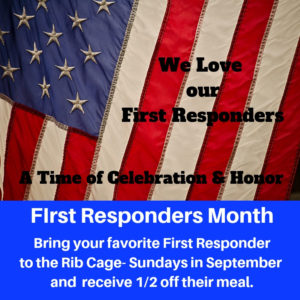 ***
You won't want to miss out on the best 'seats in the house' this September, for the OHIO CITY ANNUAL STREET FESTIVAL on
Sunday, September 23rd- 2018.

We invite our neighbors and friends from the east and west sides to join us at our newest Rib Cage location for a day-long celebration.
You'll be able to watch all the action from this prime location—on West 25th Street. Overlook the entire Festival and enjoy some of your smoked favorites for FREE, on the Patio of the Rib Cage.
The streets will be full of music and art entertainment from noon until 8 p.m. There will be family-friendly fun, including interactive games, activities, crafts, inflatables and more! This event is FREE and open to everyone.
Remember: if you find something 'different' hiding amidst the pennies in our famous penny bar, there'll be a surprise for you!
Click here for more information about Ohio City and the specific details of the Festival.
***
Hit the HOT BUTTON at the bottom and sign up for new monthly specials, event updates & promotions.