Welcome to the Rib Cage Smokehouse
Bar & Grill!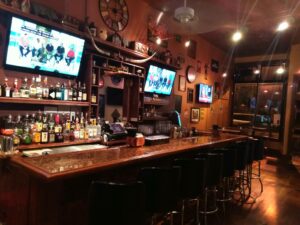 Hey there! I'm Owner Robert Hill Jr., together with my sons Brandon, Robert III and Ronnell—we want to say, thank you for your loyalty to The Rib Cage Smokehouse Bar & Grill.
You asked for a second location on the West Side of Cleveland & You Got It.
So come on by and we'll serve you up a plate of your favorites at 1830 West 25th, in Ohio City's Market District.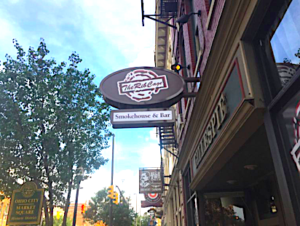 We're HERE for YOU.
The same quality and atmosphere you've come to love at our Cedar-Lee location is part of our newest Rib Cage, downtown.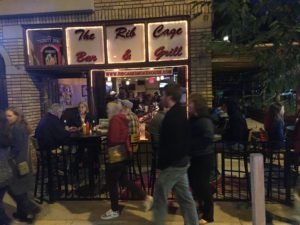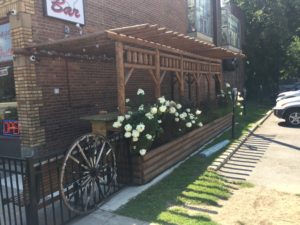 Since 2012, The Rib Cage in the Cedar-Lee District of Cleveland Heights has been cooking up the freshest, slow cooked hearty Southern-style barbeque meals with our famous side dishes. We smoke our meats 24 hours a day, on site in a custom-built brick smokehouse, using Cherry, Apple and Hickory woods from Amish Country.
Even our decor has that rustic feel. You can't help but look all around at the cool collectables on the walls and of course the penny bar.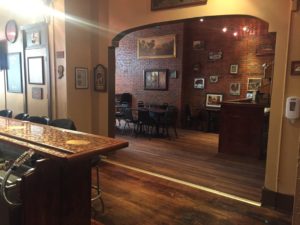 It's not just the slow Smoked Meats you'll love: Brisket, half Chickens, Turkey Ribs, Spare Ribs, Baby-Back Ribs, Pulled-Pork, Chicken Wings and great variety of sandwiches. Your favorite sauces, including the Carolina Mustard-Vinegar, Spicy BBQ, Jamaican-Jerk and Sweet Thai chili.

The Rib Cage also prepares fried, grilled or blackened fish dinners made from Tilapia, Perch and Catfish. Your favorite sides—like Candied Yams, Garlic Mashies, Sweet Corn Bread, Red Beans & Rice, Bourbon Baked Beans, Collard Greens, Mac & Cheese, Fresh-cut Fries, Rib tips, Alligator-bites and…those good old-fashioned Fried Green Tomatoes.

That's just the beginning. The Rib Cage is always serving-up good vibes with special events, promotions and community nights. Pull up a comfy chair at our famous custom-made penny bar and have yourself a cold one, where you can choose from over a dozen taps, including Platform Beer Co. and Market Garden Brewery. There's a couple of surprises hiding in the new penny bar on West 25th. Find one and see what happens!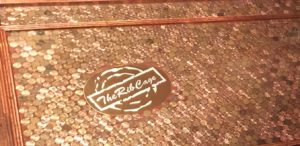 Walk in a guest and leave as family. One visit is all you need to taste the flavor, savor the impeccable quality and feel the REAL in everything about the Rib Cage!

TWO Rib Cage Smokehouse locations for you:
2214 Lee Rd., Cleveland Heights, Ohio- 44118 
📞Phone: (216) 321-RIBS
1834 West 25th St., Cleveland, Ohio- 44113 
 📞Phone: (216) 762-1996
🌟LATEST FOODIE DELIVERY NEWS 4U!🌟
We offer you (click)→Door Dash Delivery —Your favorite Cleveland Restaurant can now deliver in under an hour.
We're also on (click)→ Grub Hub and your first order with them gives you a great discount for the Rib Cage, when prompted to enter your email. *Our restaurant appears during open hours, starting at (4 p.m.)
Order with us on (click)→ Uber Eats as well.
***
FOLLOW & LIKE our UPDATED SOCIAL MEDIA ACCOUNTS to GET NEWS on SOCIAL MEDIA PROMOTIONS just for being a fan of our brand new Cage pages.
You'll find videos, fan photos, special social media promo events and so much more when you follow our new accounts.
*NOTE: If you share a positive review, there's a surprise in store for you on your next visit to either Rib Cage location! Simply show us it's you- who did the review! You can add a photo too!
Don't forget to Hit the HOT 🔥 BUTTON below and stay informed about ALL the events and specials coming your way on our website for each Rib Cage location:
Ohio City & Cleveland Heights!
***

The Hill Family: Team Smokehouse
[The Rib Cage Smoke House Bar & Grill—where 'The Sauce is the Boss, but the Meat got it Beat!'©️ Copyright 2018 All Rights Reserved]